Registration
We are all members of the Royal College of Podiatry and registered with the Health Care Professions Council.
Podiatrist is a protected title. To verify that a practitioner is registered with the HCPC you can access the HCPC Online Register.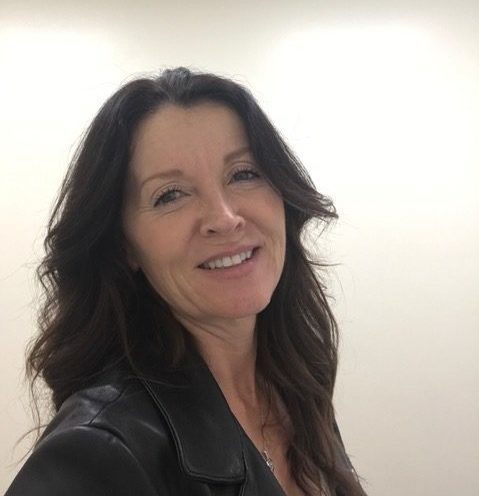 Jennifer Muir – Registered Podiatrist and Director, Certified Laser Specialist in Skin and Aesthetics
Jennifer has over 30 years podiatry experience having graduated in Podiatric Medicine in 1992 after undertaking 3 years full time training.She is also trained and certified in the use of local anaesthesia. Her career has included working as a specialist podiatrist managing diabetic, high risk and paediatric caseloads in the NHS, being responsible for lower limb anaesthesia for foot surgery where she worked for a Podiatric surgeon and she worked in Manitoba, Canada. Her work in Canada involved managing and treating high risk diabetics, general private practice clinics and setting up the first nail surgery clinic in Brandon.
Along with routine podiatry, Jennifer specialises in advanced podiatry treatments. She has also undertaken extensive training in dermatology and laser applications over the last 10 years and offers both thermal/vascular laser (1064nm NDYAG) and cold (Lunula) laser treatments. She is fully insured with Hamilton Fraser.
A keen sports participant, she knows the importance of healthy foot function. Jennifer enjoys running, riding her motorbike, completing 10k and half marathons and is a certified yoga teacher (yoga alliance)
Samantha Dedman – Registered Podiatrist
Samantha graduated from the University of Brighton with an honours degree in Podiatric Medicine and is qualified in local anaesthesia and Prescription only Medicines (POMs) sale and supply.
Samantha joined our practice in September 2017 and is also part of the team at Guildford Foot Clinic, after observing at both clinics during her student years.
Samantha continues to further her knowledge by attending numerous professional development days, courses and symposia to be able to offer the most current and effective treatments. Rooting from her sporting background she has a keen interest in biomechanics and is aspiring to specialise within this field.She is also fully trained in nail surgery under local anaesthesia, fully trained in the diagnosis, treatment and management of all Lunula laser and Clearanail treatments for onychomycosis (nail fungal infection), fully trained in a wide range of treatments for verrucae and general foot, skin and nail conditions.
Mr Deepak Pabari – Podiatric Surgeon
Mr Pabari has a reputation for excellence and meticulous attention to detail and is one of Surrey leading foot surgeons. He is the only Podiatric Surgeon in the UK who is also a medical doctor having qualified form the Medical School at Southampton University in 1996. Mr Pabari has been working for 16 years in Surrey and after training at West Middlesex University Hospital he attained a Fellowship in Podiatric Surgery in March 2000. He is also committed to undergraduate and postgraduate training and has been appointed as a visiting lecturer at Brighton University.
His ethos is to provide the very best personalised care and adopts a patient focused approach to his practice. Providing a clear, honest and balanced opinion in a supportive environment to enable patients to make the best choices about their treatment. Mr Pabari has extensive experience in treating foot and ankle conditions and a passion for working to deliver the very best results possible for each and every patient under his care.
To date, Mr Pabari has carried out over 3,300 surgical procedures on the foot and ankle. He has been running specialist foot and ankle clinics at Cobham Hospital, Epsom Day Surgery, Dorking Hospital and Surbiton Hospital and has an excellent record of outcomes documented systematically over the years. Regular audits have also supported good outcomes with low complication rates.
Mr Pabari is able to provide medical, surgical and orthotic management for the following foot and ankle conditions:
Hallux valgus-bunions
Hallux rigidus/limitus-arthritis of the great toe joint
Hammer toes
Tailor bunionette
Metatarsalgia
Neuroma
Ganglion
Fibroma
Exostosis
Ingrowing toenail
Tendon injuries; Posterior tibial, Peroneal and Achilles tendonitis
Heel pain; Plantar fasciitis and posterior heel pain
Mid and rearfoot pain and arthritis
Ankle pain and instability
Ultrasound guided steroid injections for neuroma, plantar fasciitis and painful joints.
Oliver O'Callaghan-Brown – Registered Osteopath
Oliver has been a Registered Osteopath for over 20 years, having graduated from the British College of Naturopathy and Osteopathy (now BCOM) in 1999.
As well as managing everyday aches and pains he developed an interest in managing sports injuries, has used acupuncture for pain relief and has studied at the Movement and Running School to be able to assess and correct running techniques.
He is a member of The British Association of Sports and Exercise Medicine (BASEM) and a Fellow of The Royal Society of Medicine. He believes physical strength is essential for good functioning of the back and is vital for good biomechanics of the legs.
Kathy O'Callaghan-Brown – Registered Osteopath
Kathy has been a Registered Osteopath for over 25 years. She graduated from the British College of Naturopathy and Osteopathy (now BCOM) in 1995. She is a Fellow of the Royal Society of Medicine.
Her main interests lie in the treatment of Mums and Babies, having previously run a Breastfeeding Clinic with a Lactation Consultant in Surbiton and also recently joined a Charity offering peer support for breastfeeding.
Melanie Bryant – Physiotherapist
With over 20 years of experience working as a Physiotherapist I want to to offer you a really positive experience through your Physiotherapy journey, right from booking your initial appointment through to your discharge.
Over the years, I have learnt new and advanced evidence-based methods in order to offer you the highest standards of treatment and patient care.
I qualified at the University of the Witwatersrand in Johannesburg in 2000. Since then | have been living in the UK and have worked in private practice, and have supported a local rugby club and was the team leader for England touch rugby.
I am a Master trainer and fully certified Pilates instructor , in both matwork and large equipment, at the APPI (Australian Physiotherapy & Pilates Institute), where I am involved in the education of other health professionals who are training to become certified Pilates instructors.
Make An Appointment
You can contact The Podiatry and Laser Clinic by telephoning us on 01932 336000 or completing our online form below.